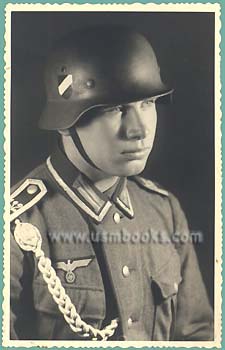 A company in the Netherlands has upset the countries football authority because it is offering orange Nazi-style helmets to Dutch fans for this years soccer World Cup, being held in Germany.


The firm, Free Time Products, has defended its product by saying "During the World Cup the playing field is different. We ought to be able to poke a bit of fun at our arch-rivals the Germans."

Supporters are referred to as "infantry" and, when in groups, as "battalions" by the company website which is promoting the helmet. The Dutch authority, the KNVB, say "They claim not to want to emphasise the war, but are achieving the very opposite."

(
source
)
a Dutch fan wonders whether to buff his helmet just one more time.....